Donnelly Researcher Receives Outstanding Innovation Award
Awards, Trainees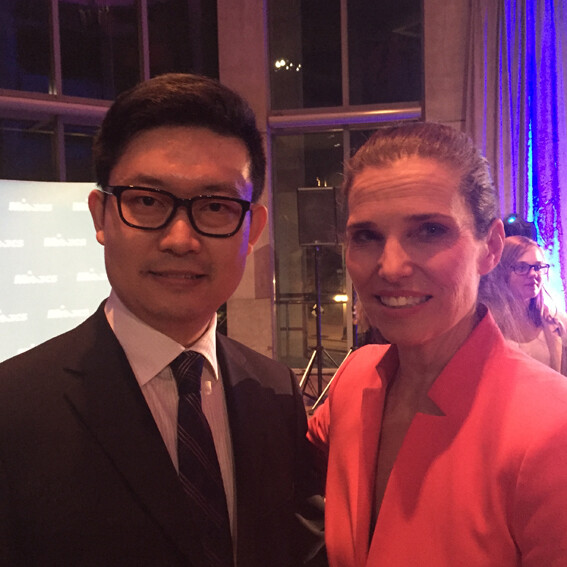 As a protein engineer, Dr. Wei Zhang gives old molecules new tricks. And now, he's transformed a single human protein into a virus-crushing arsenal that could lead to long-sought treatments for deadly infections.
This week, Zhang received the Mitacs Award for Outstanding Innovation, for his work on creating molecular antidotes against viruses that cause Middle East Respiratory Syndrome (MERS) and Crimean-Congo Hemorrhagic Fever (Congo Fever). His patent-pending research was crucial to the launch of a new Toronto-based company called Ubiquitech, which will further commercialize his work so it can be used in a clinical setting.
Read about Wei Zhang in Toronto Star
As a postdoctoral research fellow in Professor Jason Moffat's group in the Donnelly Centre, Zhang already holds a competitive Elevate Fellowship from Mitacs, a nonprofit which supports innovation across public and private sectors. The fellowship enabled Zhang to start thinking about commercializing his research through a collaboration the with the Centre for Commercialization of Antibodies and Biologics (CCAB), the industry partner for his fellowship, located at the U of T.
"Wei has done a phenomenal job of applying a cutting-edge new technology to the pressing issue of emerging pathogenic viruses. It's a great example of how an investment by Canada in basic research and talented young scientists can lead to real impacts on human health," says Dr. Sachdev Sidhu, CEO of CCAB.
After completing a doctorate with a U of T Professor Daniel Durocher, Zhang joined Moffat and Sidhu's labs to learn the ropes of protein engineering. The two teams had previously developed a powerful technology to quickly create synthetic proteins that could be used as research reagents, or developed further into drugs.
Although Zhang's work revolves around a single protein, called ubiquitin, its applications are far-reaching. Named after its pervasive presence in every cell on earth, ubiquitin works by attaching to other proteins to help relay signals telling the cell to grow or fight infections, for example. Encoded by genes, proteins do most of the work in the cell. They are built from amino acids, which are stitched together based on the DNA blueprint. Using molecular tricks, scientists can change how a protein behaves by changing its DNA sequence.
"Wei is poised to turn basic science into applications that could help people" - Professor Jason Moffat
And so, through subtle tweaks, Zhang has turned a lone, naturally occurring ubiquitin into a set of tools—synthetic ubiquitin variants (UbV)—which allow him to manipulate the proteins that ubiquitin normally binds to. For example, a ubiquitin variant may spur the activity of the other protein, or it may take it out of action completely. But each variant has a unique target, allowing Zhang to control protein activity with unrivalled precision.
Being able to thwart a protein is particularly useful when dealing with harmful molecules, like those made by bacteria and viruses, for example.
"Ubiquitin-dependent signalling is important in the immune response, and a lot of viruses encode proteins that bind human ubiquitin, which allows them to topple the body's defense mechanism. One of them is MERS, a respiratory virus similar to SARS that caused a global epidemic in 2002. 14 years later, nothing has come out of clinical trials. While vaccines are being developed for many viruses, there is no treatment in sight for people who are infected," says Zhang.
MERS emerged in Saudi Arabia in 2012, and it kills almost 40 per cent of those who become infected, making it even more dangerous than SARS. Zhang has engineered a ubiquitin variant which blocks MERS' ability to evade the immune response. "When we treat the cells infected with MERS with the ubiquitin variant, we can kill the virus in two days," says Zhang.
The list of anti-viral ubiquitins could become long. Zhang has already created a variant that's effective against Congo Fever virus, which causes internal bleeding and kills almost half of those infected. But what's most exciting about Zhang's approach is that it can be applied to any viral protein that binds ubiquitin. "We are able to quickly—in less than one month—generate inhibitors for any ubiquitin-binding proteins in the virus," says Zhang. This means that Zhang's work could also be applied to viruses such as SARS, Zika, and Ebola, as well as to preventing viral damage to food crops and animals.
"Wei has fully captured the potential of protein engineering technology with his research. He is poised to turn basic science into applications that could help people," says Moffat.