2023 Dorrington Award Recognizes Graduate Students Working on Drug Delivery, Nanomedicine and Gene Regulation
Awards, Cancer, Computational Biology, Nanomedicine, Trainees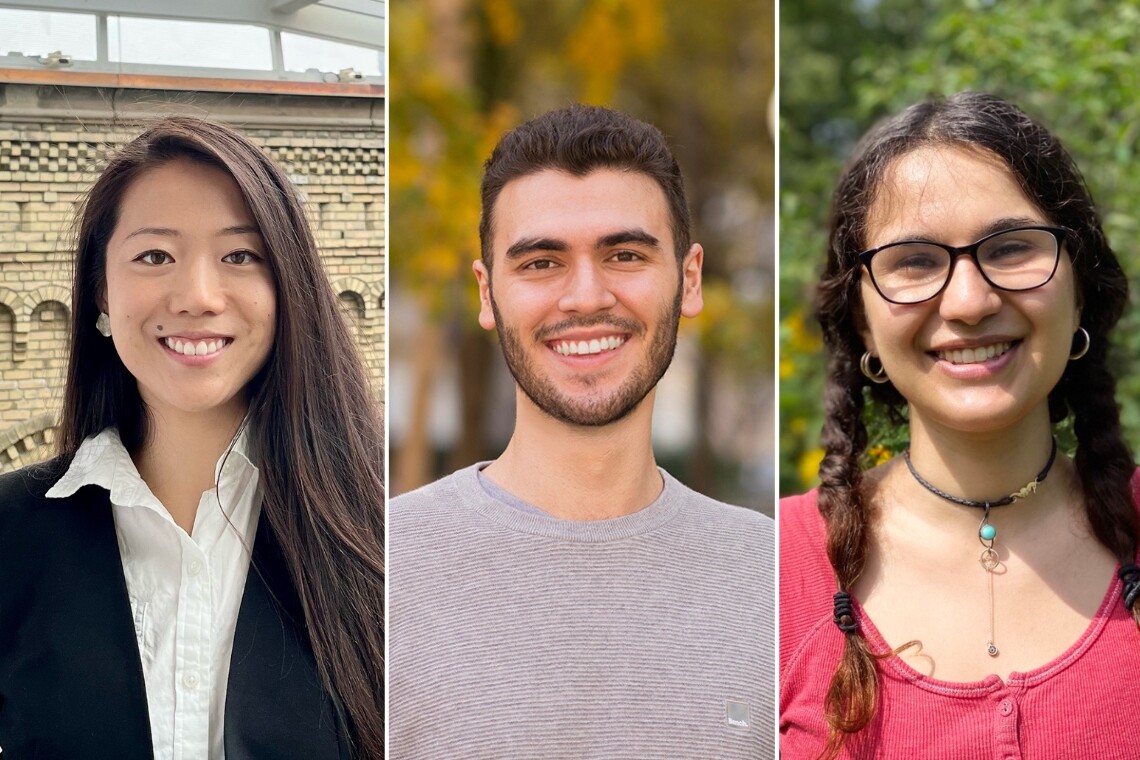 The Donnelly Centre for Cellular and Biomolecular Research recognizes three outstanding graduate students each year with the Jennifer Dorrington Graduate Research Award. The award supports the students' continued progress in achieving their research goals and contributing to the Centre's history of excellence in advancing discovery, medicine and health. The recipients of the 2023 Jennifer Dorrington Graduate Research Award are Lia Huo, Stefan Mladjenovic and Sara Pour.
All three award recipients have demonstrated dedication to their research while managing the challenges of being a graduate student during the COVID-19 pandemic. Unusual circumstances, including having to interact with colleagues and foster collaboration virtually and maintain momentum with limited access to lab spaces, did not deter Huo, Mladjenovic or Pour. Their resilience is just one of the stellar qualities for which the three graduate students are celebrated with the award.
"On behalf of everyone on the Jennifer Dorrington Graduate Research Award committee, I would like to offer my warmest congratulations to this year's winners. Lia Huo, Stefan Mladjenovic and Sara Pour represent the future of science, building on the work of their predecessors and making strides in their respective fields. Our graduate trainees at the Donnelly Centre are truly at the forefront of biological research," said Gary Bader, professor of molecular genetics and chair of the 2023 Jennifer Dorrington Graduate Research Award selection committee.
Improving Drug Treatment Methods for Inherited Blindness
Lia Huo is an MD/PhD student in the Clinical Scientist Training Program, conducting research in the Shoichet lab under the supervision of Molly Shoichet, professor of chemical engineering and applied chemistry.
With two years of medical school and almost three years of a PhD program under her belt, Huo will return to medical school for two more years after completing her PhD. Training for nearly a decade is a significant undertaking; this choice was inspired by an impactful interaction Huo witnessed between neurosurgeon Dr. Abbas Sadikot, her undergraduate research supervisor at McGill University, and a patient. Huo's drive is fueled by both a curiosity to see how basic science could be translated in the clinic and a desire to make a personal connection with patients.
Huo's research interests shifted from studying Huntington's disease and Parkinson's disease as an undergraduate student to the treatment of retinitis pigmentosa in graduate school when a family member was diagnosed with a degenerative eye disease.
Retinitis pigmentosa is the leading cause of inherited blindness, affecting two million people worldwide. The disease results in the loss of rod photoreceptors in the eye, which help us see in dim light conditions. Losing rod photoreceptors in turn leads to the death of cone photoreceptors, which help us see in colour. Eventually, the retina degrades and blindness sets in if the disease is left untreated.
A recently discovered protein called Rod-derived Cone Viability Factor (RdCVF) is secreted by rods to keep cones alive, making it a viable option for the treatment of retinitis pigmentosa. Thus far, the protein has not been applied successfully in the clinic due to how quickly it drains from the patient's eye.
This challenge is often addressed in other eye diseases, like wet age-related macular degeneration, with repeated injections in the eye. The injections are not only tiresome for patients who need to visit the clinic to receive them, but also put them at risk of overdose, inflammation, and cataracts. Huo hopes to minimize the potential side effects of injections and prevent cone death through a drug delivery system that can increase how long the RdCVF protein lasts in the eye.
The new drug delivery system is part of an international collaboration with the Institut de la Vision  laboratory in Paris of the late Thierry Léveillard, who discovered the RdCVF protein with Dr. José-Alain Sahel. Huo's contribution was the modification of a hydrogel that was patented by the Shoichet lab to control how quickly the RdCVF drug is released. She is planning to confirm that the hydrogel has the potential to work in a clinical setting by testing it on human retinal organoids.
"Even though my relative may never directly benefit from this research, I am hopeful that future patients will have access to treatments that reduce clinic visits and invasive procedures," said Huo. "These treatments will improve, rather than interfere, with their quality of life."
Investigating Barriers to Nanomedical Treatment of Cancer
Stefan Mladjenovic is a third-year PhD student in the Chan lab, conducting research under the supervision of Warren Chan, distinguished professor of nanobioengineering.
Mladjenovic became involved in cancer research during his third year as an undergraduate student at McMaster University. Of particular interest to him were the applications of nanomedicine in treating cancer. While there are already clinically approved forms of nanomedicine for treating tumors, nanoparticles generally face challenges in reaching the tumors they're meant to target. These challenges are what Mladjenovic is now exploring as a PhD student at the Donnelly Centre.
Nanoparticles can be used to deliver drugs by acting as transportation vehicles for their drug cargo. Upon injection into the bloodstream, these nanoparticles travel through the circulatory system to enter the blood vessels in tumours. The next step for the nanoparticles would be to travel from the tumor's blood vessels into the cancerous cells that surround them; however, only 14 in every one million nanoparticles are able to make this trip successfully.
The barrier for nanoparticles between the blood vessels and the cancerous cells in a tumor is called the extracellular matrix (ECM). It consists of a network of proteins, in which nanoparticles can get trapped. Mladjenovic is hoping to get to the bottom of this barrier to drug delivery, and his tool of choice is nanoparticles made of gold. Gold nanoparticles are ideal for this investigation because they don't degrade and can be visually detected within cells, allowing Mladjenovic to measure how many of these nanoparticles are reaching their target cells.
"We don't understand the extracellular matrix, and there's no silver bullet with cancer," said Mladjenovic. "We need to understand biology better so we can develop a system for targeted drug delivery to tumours."
Mladjenovic plans to improve his own understanding of tumour biology by developing a method to measure the physical features of the ECM, as well as measuring the distance a nanoparticle must travel from a blood vessel to a target cell, based on the features of the ECM it must pass through.
The findings from Mladjenovic's research may improve drug delivery methods to treat cancer cells by informing nanoparticle design. They may also help determine which cancer patients are most likely to benefit from this type of nanomedical treatment, depending on what the ECM in their tumours looks like.
Mladjenovic plans to pursue a career in academia after earning his PhD. This path is likely inspired by his advisor, Warren Chan. Mladjenovic sings Chan's praises as an international expert in nanomedicine who takes a systematic approach to answering questions in biology. He also credits Chan for creating a supportive lab environment for research trainees.
Chan in turn has observed the time and effort Mladjenovic invests in understanding the principle and purpose behind his research, which helps him attack problems strategically. This talent for problem-solving will undoubtedly see Mladjenovic through his goal to target cancer with minute precision.
Harnessing the power of computational modelling to crack the RNA code
Sara Pour is a third-year PhD student in the Hughes lab who is conducting research under the supervision of Tim Hughes, professor of molecular genetics.
With the end of her PhD program within sight, Pour is grateful to have spent her graduate career at a research centre that is founded on interdisciplinary collaboration. Her own research has been guided by encounters with people whose ideas inspired the pursuit of new directions. Pour discovered through seminars, interactions with colleagues in the Hughes lab and other opportunities to pick the brains of fellow researchers that the people at the Donnelly Centre are a great resource for research and career development.
Pour was introduced to the Hughes lab as an undergraduate student at the University of Toronto. She spent a summer semester working in the lab, where an opportunity to try her hand at computational work grew into a passion for it, which now drives her PhD research. She is currently developing models to find the genetic sequences that control processing of messenger RNA (mRNA), which carries the script for synthesizing proteins.
Through her PhD research, Pour aims to accomplish something that has never been done before: learning the regulatory genetic code that controls where and how an mRNA strand ends, on the scale of the entire human genome. The breadth of this research can only be achieved through recent advances in machine learning and computational modelling. Pour hopes to be able to predict where RNA strands will terminate through deep-learning models, and plans to map these sites. She will then confirm the accuracy of her models and maps by testing whether mRNA strands break where the ends are expected to be.
Pour has already improved upon the accuracy of existing models. She is working towards creating a resource for the molecular genetics community that can be used to develop more effective therapies for diseases caused by the transcription of RNA strand ends and their subsequent translation into proteins.
This summer, Pour is getting her feet wet on the business side of RNA therapy development. She is working as a computational biology intern with Deep Genomics, a company that combines genomics, drug development and artificial intelligence to treat genetic conditions. Pour credits the internship opportunity for giving her industry experience, as her career had previously been limited to academia.
"Don't be intimidated by the idea of working with computers," said Pour, as advice for any undergraduate students who are shying away from pursuing computational biology. "You can pick it up. Don't doubt yourself because you're junior."
The Jennifer Dorrington Graduate Research Award is awarded to three graduate students enrolled in a Master's or Ph.D. program in the Temerty Faculty of Medicine and doing research in a lab located in the Donnelly Centre. The award was established in 2006 as a tribute to Dr. Jennifer Dorrington, who was a professor in the Banting and Best Department of Medical Research at the University of Toronto, where she conducted pioneering research in reproductive biology and ovarian cancer. Dorrington made foundational discoveries in ovarian physiology and co-founded and directed a company to see her research translate to reality. Her legacy is celebrated by recognizing innovation in graduate research.