Warren Chan honoured with Kabiller Young Investigator Award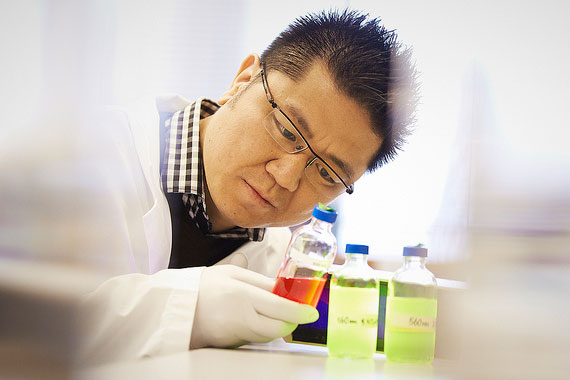 Professor Warren Chan has received the inaugural Kabiller Young Investigator Award from the International Institute for Nanotechnology at Northwestern University.
"I am very honoured to receive this award," said Chan. "I hope this recognition helps to inspire other young scientists in the field of nanotechnology." The $10,000 award was presented Oct. 1, 2015 at the International Institute for Nanotechnology Symposium in Evanston, Illinois. It recognizes a young researcher who has made a recent groundbreaking discovery with the potential to make a lasting impact in the nanomedicine area.
Chan, who is also affiliated with the Institute of who holds the Canada Research Chair in Bionanotechnology, is creating a roadmap for the design and application of nanotechnology to improving the diagnosis and treatment of disease. In particular, the award recognizes his major discoveries and advances in the field of nanomedicine, including the roles played by the size, shape, and surface chemistry of nanoparticles in determining their interactions with cells. Recently, his group created a rapid, point-of-care nanotechnology-based diagnostic system that can detect multiple diseases from a single drop of blood.
The point-of-care device is based on a combination of quantum dot barcoding technology — which picks out genetic markers for diseases — and techniques that allow the signals to be imaged and identified by a smartphone. The device costs less than $100 and can detect sequences from viruses like HIV or hepatitis B in less than one hour at 90 per cent accuracy. Not only will this device provide a better diagnosis but the information can guide a clinician in proper administration of a drug for treatment.
"Professor Chan's research is a great example of the application of engineering to medicine in order to improve human health," said Professor Ted Sargent (ECE), vice-dean, research at U of T Engineering. "He embodies our Faculty's spirit of discovery, innovation and knowledge translation, and his work will have a positive impact both here in Canada and around the world."
This story originally appeared on the IBBME website.