Summer Undergraduate Students Help Advance Research in Gene Regulation, Virology and Drug Delivery
Research, Trainees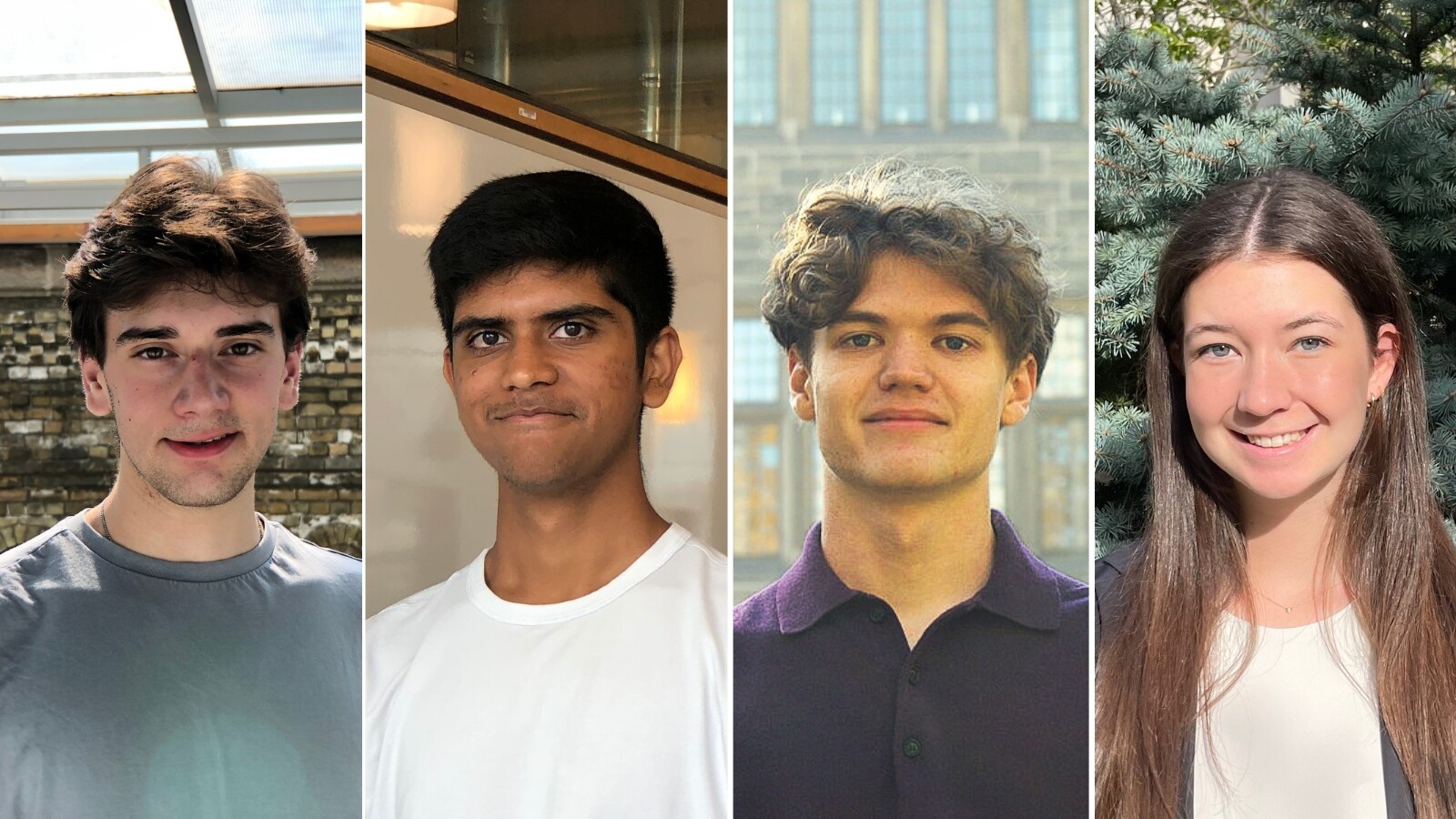 The Donnelly Centre for Cellular and Biomolecular Research welcomes a new cohort of undergraduate students each summer, where experience in a lab environment and mentorship by graduate students and faculty help prepare them for a future in biomedical research.
Many undergraduate students join labs at the Donnelly Centre full-time throughout the summer, taking on highly involved roles in research projects. As the summer semester winds down, we are highlighting three undergraduate students, and even one high school student, who spent the last few months getting a taste of life at a Donnelly Centre research lab.
"We are proud to have a history of fostering undergraduate talent at the Donnelly Centre," said Stephane Angers, director of the Donnelly Centre. "Our summer students will go on to have successful careers, whether it be in research or another industry that aims to improve human health. We hope that spending a summer with our faculty and graduate students provides the support they need early on."
We are proud to have a history of fostering undergraduate talent at the Donnelly Centre. Our summer students will go on to have successful careers, whether it be in research or another industry that aims to improve human health. We hope that spending a summer with our faculty and graduate students provides the support they need early on.

Stephane Angers, director of the Donnelly Centre
Mapping Gene Regulation in Developing Fruit Flies
Paul D'Agostino is a second-year undergraduate student in the molecular genetics and microbiology specialist program, minoring in immunology. He has been spending his summer working for Henry Krause, professor of molecular genetics.
D'Agostino helped expand a long-standing database created by the Krause lab that visually catalogues messenger RNA localization patterns in Drosophila embryos and larvae using fluorescent markers. Drosophila, more commonly known as the fruit fly, is a model organism for studying genetics and behaviour in the lab. It has more than 10,000 genes; the Krause lab has catalogued around 2,000 genes so far, and D'Agostino contributed almost 100 of these genes this summer.
The purpose of the database is to visualize messenger RNA expression across the developmental stages of Drosophila to determine the potential effects of genes coded for by the messenger RNA. While the database is not yet complete, it has already furthered research in the Krause lab, having been featured in publications on cell architecture and function and the localization of coding and noncoding RNA.
With this summer being his first working in a lab, D'Agostino was hopeful that his experience would reaffirm his interest in genetics. Now at the end of his time at the Krause lab, D'Agostino maintains his passion for genetics and has discovered that the research environment appeals to his problem-solving nature. He plans to continue seeking out undergraduate lab positions.
D'Agostino attributes his positive summer experience in the Krause lab to its members, especially his mentor Catherine Shao, lab technician. Shao and other lab members put D'Agostino at ease with their consideration, understanding and willingness to help.
"I always thought researchers had a chip on their shoulder, but being in this lab has shown me that everyone here is down to Earth," said D'Agostino. "This [summer experience] made me feel like I want to do research, more than ever."
Finding a Virus That Intensifies Symptoms of Toxoplasmosis
Purav Gupta is a recent graduate of The Woodlands Secondary School in Mississauga. He decided to spend the summer between his last semester of high school and his first semester in the life sciences program at the University of Toronto working with Artem Babaian, assistant professor of molecular genetics.
Gupta's working relationship with Babaian started many months before his summer research experience. Between December to April, Gupta was mentored by Babaian on a part-time basis, working mostly virtually and visiting the lab once a month.
During his mentorship, Gupta was tasked with looking into one of the more than 100,000 new RNA viruses Babaian and colleagues discovered using a cloud computing platform called Serratus. Gupta studied the genome of this particular virus, which the lab has named Achaeavirus odysseus, and the structure and assembly of proteins encoded by it. He also explored which other viruses it could be related to.
Eventually, the mentorship turned into a full-time summer job, with Gupta leading a project on determining which protozoan strains A. odysseus infects. He found that the virus targets two strains of Toxoplasma gondii, a parasitic protozoan that causes toxoplasmosis. Around half of people around the world are, in fact, infected with toxoplasmosis. Of those infected, however, only a small percentage experience flu-like symptoms, which are caused by an immune response to T. gondii. Symptoms of this immune response are intensified when T. gondii is infected by the RNA virus.
Gupta presented his findings on the toxoplasmosis project at two conferences this summer: the University of Toronto's annual Infectious Diseases and Microbiology Research Day, where he gave a talk on his own, describing it as a "surreal experience", and Toronto RNA Enthusiasts' Day (TREnd), where he presented at a poster session with Babaian.
Gupta says this of his summer experience: "It's been really positive. I feel like I've levelled up my skills, and before I start university, I will have a paper published."
Gupta emphasizes that the paper on the toxoplasmosis project is a fully collaborative effort by the Babaian lab; the first author will be determined by a Mario Kart tournament.
Discovering a Narnavirus Using Artificial Intelligence
Aiden Hiller is a third-year undergraduate student in the bioinformatics and computational biology specialist program. This is Hiller's second summer working in a Donnelly Centre lab; he held an undergraduate position with Timothy Hughes, professor of molecular genetics, the summer before entering his third year.
Hiller has been working in the Babaian lab with Gupta, on the toxoplasmosis project. His role for the project was to investigate the RNA-dependent RNA polymerase (RdRp), an enzyme that facilitates RNA replication, of the virus that exacerbates toxoplasmosis.
Hiller helped identify the virus using AlphaFold, an AI program that predicts protein structure, and by determining the evolutionary history of the virus based on its RNA sequence data. He also discovered that it is a narnavirus; as a group, narnaviruses are currently not well-understood. Narnaviruses do not infect people directly, but worsen an immune response if carried by a parasite that infects people, such as T. gondii.
Originally from New York City, Hiller decided to attend the University of Toronto because it's close to home, offers programs that interest him and is located in another big city. Hiller learned that Babaian was joining the Donnelly Centre as a new faculty member last summer, while he was working in the Hughes lab. He found Babaian's research on viruses intriguing, and heard that other students had learned a lot from working with new faculty. Hiller and Babaian bonded over a mutual passion for rock-climbing, which is the team-building activity of choice in the Babaian lab.
Hiller describes Babaian as a very hands-on supervisor, which he believes is a suitable teaching style for undergraduate students. "It was fun to see Artem's progression as a principal investigator," said Hiller. "He spends a lot of time with us in the lab; it feels like we're all in this together."
Developing a More Effective Treatment for Glaucoma
Olivia Roland is a second-year undergraduate student in the biochemistry program at Queen's University. She decided to work at the University of Toronto this summer so she could return to Toronto, her hometown, to spend time with her family and friends from high school.
Roland has beens working under Molly Shoichet, university professor of chemical engineering and applied chemistry. Along with another undergraduate student, Roland assisted graduate students Mickael Dang and Kai Slaughter on a project to develop a drug delivery system to treat glaucoma.
Glaucoma results from nerve damage to the back of the eye, likely caused by increasing pressure. It is a chronic and progressive eye disease that can lead to vision loss, but symptoms are treatable. Netarsudil, more commonly known as Rhopressa, is a drug that is used to treat glaucoma. It is typically delivered through eye drops, which need to be administered 2-4 times per day as the drug degrades quickly.
Roland and the rest of the project team have been working to create a targeted drug delivery system through injection to improve on current treatment methods for glaucoma. This system combines Netarsudil with small interfering RNA, which facilitates the silencing of genes that can cause glaucoma. Netarsudil decreases actin filament polymerization in the eye; this in conjunction with the gene silencing effect of the small interfering RNA will prevent the increase in pressure and stiffness that leads to optic nerve damage.
Roland presented her findings from the project at the Undergraduate Engineering Research Day (UnERD), hosted by U of T Engineering.
Nearing the end of her summer in the Shoichet lab, Roland has decided that she wants to continue conducting research. She feels she now has a sense of what it's like to be a graduate student and what it takes to be successful in academia. "This [summer experience] definitely made me want to do a PhD, or at least go to grad school," said Roland. "I like the concept of working towards treating a disease, but in research."