New Donnelly Centre Director on 'Supporting the Next Breakthroughs in Biomolecular Sciences'
Appointments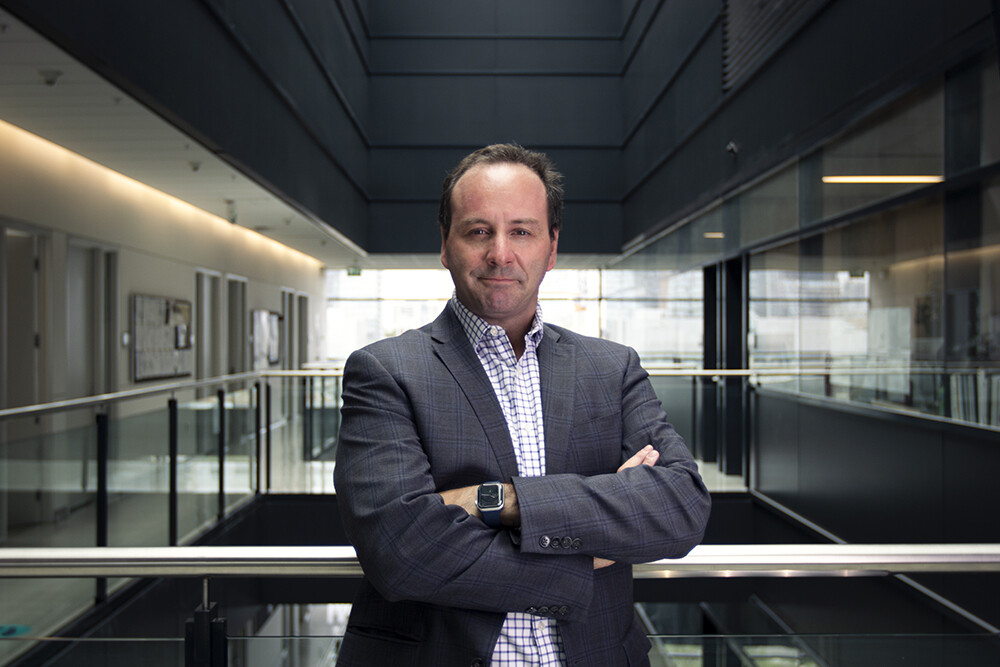 Professor Stephane Angers has been appointed director of the Donnelly Centre for Cellular and Biomolecular Research for a five-year term beginning September 1, 2021.
Angers, who is currently Associate Dean of Research in the Leslie Dan Faculty of Pharmacy, holds appointments with the Leslie Dan Faculty of Pharmacy and the Department of Biochemistry at the Temerty Faculty of Medicine. He is also the founding co-director of the multi-disciplinary Precision Medicine Strategic Initiative (PRiME) at U of T.
Hailing from Quebec, Angers completed a BSc in Biochemistry at McGill University and PhD in Biochemistry at the Université de Montreal before undertaking a postdoctoral fellowship at the Howard Hughes Medical Institute, University of Washington in Seattle.
He joined U of T in 2006, establishing the Angers Lab to study the Wnt family of growth factors in stem cells during development, tissue regeneration and cancer. This work has uncovered novel therapeutic targets, leading the development of new drugs that are advancing towards the clinic both as anti-cancer treatments and as regenerative medicine strategies in non-malignant disorders.
Angers, who previously held a Canada Research Chair II in functional architecture of signal transduction, has received more than $10 million in peer reviewed research support and has published more than 100 peer-reviewed publications in top-ranked journals.
Following the announcement of his appointment to the Donnelly Centre, Angers spoke with Temerty Medicine writer Blake Eligh about his research, the importance of collaboration and his vision for the Donnelly Centre over the next five years.
Until now, your primary appointment has been to the Leslie Dan Faculty of Pharmacy. How does your experience there relate to your new role with the Donnelly Centre?
I've spent the last 15 years with the faculty of pharmacy. During that time, we have elevated the research capacity and impact of the faculty by creating internal funding programs, building a research office from the ground up, and creating the pan-faculty PRiME initiative that brings together people from across U of T who are interested in drug development and identification of novel therapeutics.
Over the years, I have worked closely and collaborated with several groups at the Donnelly Centre. Although I'm already ingrained in the community, I'm also a bit of an outsider with a fresh perspective that will help move the Donnelly Centre into its next phase.
How do your scientific interests intersect with those of the Donnelly Centre?
We work with Wnt proteins, which are critical stem cell factors during development, but also for adult tissue homeostasis. My group is working to understand the cellular mechanisms they influence and how they are defective in diseases. Another focus is more broadly directed at identifying genetic vulnerabilities of various high fatality cancers for which treatments are limited, such as glioblastomas and pancreatic cancers.
The research interests of my group are therefore at the intersection of research interests of several researchers at the Donnelly Centre who are studying genetic interactions, cancer cell vulnerabilities, stem cell biology and regenerative medicine, and who leverage and develop enabling technologies.
Working at the Donnelly Centre will elevate what my lab can do, and, in return, I hope I can elevate the research of others. It's a fantastic place with enormous possibilities.
What do you see as the strengths of the Donnelly Centre?
The Donnelly Centre is internationally recognized for its role as a discovery engine for fundamental science.
The centre brings some of the best scientists in Canada together under one roof. This creates an environment where world experts and younger trainees from different disciplines – engineering, genetics, computational science and molecular and stem cell biology – can cross-pollinate and bring unique perspectives to new fields of research.
One key reason for the success of the Donnelly Centre is the sustained investment in scientific infrastructure and support of highly qualified personnel and staff members. It takes expertise to run cutting-edge technology platforms, not only to understand the equipment but to also analyze and integrate the data.
What is the Donnelly Centre's relationship to the scientific ecosystem in Toronto?
We have something really special here that differentiates U of T from other universities in Canada. The high density and quality of scientific activities makes Toronto one of the global epicenters of research discoveries.

Think of any field of research or a disease, and there's a local expert, access to reagents or patient samples—it's all here within a few city blocks.
It's what attracted me to U of T 15 years ago. We need to foster this ecosystem and make it more integrative through intra-city collaborations between the Donnelly Centre and the exciting science happening in the Discovery District, elsewhere at the university, at hospitals and research institutes.
Leveraging this network will allow us to recruit and retain the best scientists in the world and the best graduate students, and to enable further research discoveries at the Donnelly Centre.
What is your vision for the Donnelly Centre?
I see the Donnelly Centre as a discovery engine that provides the essential knowledge and technologies that will help us solve the problems of tomorrow.
The best advances of medicine – let's take for example immunotherapy that provides new hope for cancer patients or the advent of mRNA vaccines that helped save the world from the SARS-CoV2 pandemic – would not have been possible without the fundamental discovery science describing the function of T cells or the development of methods leading to improved mRNA stability and delivery.
There have been spectacular advances made here over the past 15 years to better understand how eukaryotic cells function. Donnelly Centre scientists have pioneered large scale studies that revealed how proteins interact together to perform specific biological functions, how genes connect to orchestrate cellular behaviors, and mapped genes required for cancer growth.
With this increasing knowledge of gene and protein functions, the next tasks include understanding the cellular diversity that form each of our tissues and identifying the cell types involved in disease phenotypes and how we can manipulate cell functions to promote tissue regeneration or treat diseases.
The Donnelly Centre is poised to tackle these problems which require close collaborations between engineers, stem cell biologists, functional genomicists, computational biologists and the integration of cutting-edge technologies that are mastered and invented by our scientists.
How will your leadership support the work of Donnelly Centre researchers?
The Donnelly Centre exists because of the vision of philanthropist Terrence Donnelly and his belief that foundational science is important, and that discovery research will solve the problems of tomorrow.
Our ideas are unlimited, but to remain internationally renowned and performing at the cutting-edge of discovery research, we need to fuel those ideas and support the next breakthroughs in biomolecular sciences.
As director, I'm excited to engage with stakeholders and potential donors, and to take an active role advocating for foundational sciences in Canada.
We are home to some of the best scientists in Canada and their research teams. I think we have a very compelling story to tell.
Follow us on LinkedIn and Twitter to keep up with Donnelly Centre news.