Meet Winners of 2019 Cecil Yip Award
Awards, Trainees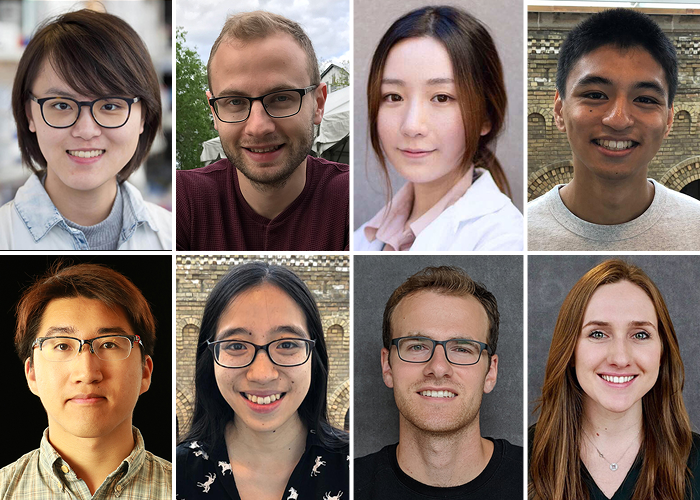 Eight students in their first year of graduate studies pursuing research in artificial intelligence, nanotechnology and bioengineering have been awarded the 2019 Cecil Yip Graduate Research Award.
With bachelor degrees in life sciences, math, physics, and engineering, and enrolled in graduate programs at U of T Departments of Molecular Genetics (MoGen), Chemical Engineering and Applied Chemistry (ChemE), Computer Science (CS) and the Institute of Biomaterials and Biomedical Engineering (IBBME), the 2019 winning cohort embodies the mandate of the Donnelly Centre as an interdisciplinary research institute at the forefront of biomedicine.
Established as a tribute to Cecil Yip, former Vice-Dean of research in the Faculty of Medicine and a co-founder of the Donnelly Centre, the award recognizes students at the beginning of their graduate program whose collaborative research in one of the Centre's labs has the potential to lead to tangible advances in medicine.
"This year's applicants reflect how the world-class collaborative interdisciplinary research environment of the Donnelly Centre has become a magnet for top scholars and trainees," says Christopher Yip, Chair of the award committee, Dean of U of T's Faculty of Applied Science and Engineering and Principal Investigator in the Donnelly Centre.
"While the review committee was impressed and excited by all of the applicants and their innovative and ambitious research projects, the awardees were selected based on the compelling translational aspects of their proposals and the catalytic role played by the Donnelly Centre."
Other committee members are: Professors William Ryu, Quaid Morris and Igor Stagljar, who are all Principal Investigators in the Donnelly Centre. Morris did not vote on applications from students under his tutelage.
Ryu is also a professor in U of T's Departments of Physics and Cellular and Systems Biology; Morris is a professor in MoGen and CS and is also Principal Investigator in the Vector Institute for Artificial Intelligence; Stagljar is a professor in the Department of Biochemistry and MoGen.
Awarded projects
Leveraging advances in AI-based machine learning, genome biology and stem cells, the awardees' research has the potential to improve treatment of some of the most common ailments including cancer, heart disease, blindness and stroke.
Jarrett Barber (Morris lab, MoGen) is developing a machine learning tool for determining the evolutionary history of a tumour using mutations found in individual cells of the tumour. Several applications of this tool will be to identify cancer-driving mutations, develop better diagnosis and prognosis criteria, and aid in the development of personalized therapies. Barber, who has a degree in astrophysics, is in Mogen's Computational Biology in Molecular Genetics, established in 2014 for students who want to apply their background in quantitative subjects to data analysis in health research.
Jingping Qiao (Morris lab, MoGen), co-supervised by Lincoln Stein, a professor in the Ontario Institute for Cancer Research (OICR), is trying to establish a method for linking 3D medical images of breast cancer to the tumour's genetic makeup. If successful, the tool could help oncologists perform minimally invasive diagnosis, track disease progress and choose treatment.
Kimberly Skead (Morris lab, MoGen), co-supervised by Philip Awadalla, a professor at OICR, is researching how mutations accumulated over a person's lifespan affect health. Specifically, she is developing machine learning tools for identifying individuals at risk of cancer or heart disease based on patterns of mutations appearing in their blood cells to improve early detection of disease in European, Canadian and African populations.
A promising strategy for treating cancer more precisely in a way that avoids damage to healthy tissue is to deliver drug-filled nanoparticles directly into tumours. However, only a tiny fraction of these particles actually reach tumours for reasons that aren't clear. Jamie (Liu Yi) Wu, (Chan lab, IBBME) is researching how nanoparticles interact with proteins in the blood and with the tumour vasculature to find out how this affects their transport and improve targeting.
Tracking molecules in patient's blood and other tissues has the potential to reveal disease earlier than available methods. This requires better tools for analyzing data collected by mass spectrometry instruments that can identify diverse molecules from a tissue sample. Two students, co-supervised by Morris and Hannes Röst, are working on this using neural network-based approaches— Leon Xu (MoGen), is developing tools for better protein detection, while Adamo Young (CS), is working on improving detection of metabolites, which are products of enzymatic reactions.
Discoveries in stem cell biology have opened possibilities for treating disease by stimulating the body to repair itself as well as by transplanting healthy cells to replace those that are damaged. Eric Ho (Shoichet lab, ChemE), is researching strategies for a non-invasive, localized drug delivery into the brain after a stroke. He is developing biomaterials that would enable a controlled release of protein therapeutics that have the potential to stimulate local neural cells to orchestrate brain healing.
Margaret Ho (Shoichet lab, IBBME) is tackling blindness from retinal degeneration. While cell transplantation has shown promise for the restoration of vision, poor implant survival has stymied progress in this area. Ho is developing methods to increase production of donor photoreceptors, light-detecting nerve cells, and boost their survival through local delivery of neuroprotective factors.
Follow us on Twitter and LinkedIn to keep up with Donnelly Centre news.