Donnelly Centre Welcomes Two New Faculty Members
Appointments, Faculty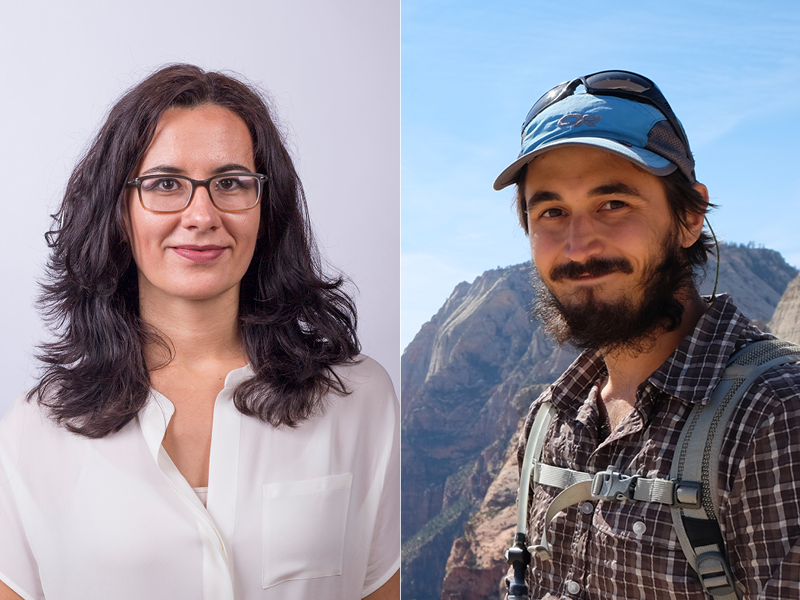 The Donnelly Centre is swelling its ranks of leading researchers with two new faculty appointments. Joining the Centre this fall are tissue engineer Milica Radisic and computational virologist Artem Babaian, who are pushing the boundaries of growing human organs in a dish and of the viral world.
Radisic is a professor at the Institute of Biomedical Engineering where she first established her now renowned lab for human tissue engineering. Radisic's move to the Centre will boost its efforts in advancing knowledge in regenerative medicine and its applications.
Babaian has been appointed an assistant professor in the department of molecular genetics. As the Centre's first virology expert, his goal is to use big data to hunt for new viruses.
"I would like to offer my warmest welcome to Drs. Radisic and Babaian who are joining us this fall," said Stephane Angers, Director of the Centre and Charles H. Best Chair of Medical Research. "Their arrival is a boon to our research community and to the Centre's purpose of driving discovery and advancement of medicine through a crosspollination of ideas and scientific disciplines."
Radisic brings a wealth of expertise in bioengineering and organ-on-a-chip technology for growing human tissue in the lab. Her team was among the first in the world to use electrical impulses and specially designed bioreactors to guide heart cells to assemble into a self-beating structure. The team also designed an injectable tissue patch that could be used to repair hearts, livers or other organs damaged by disease or injury. More recently, in response to the coronavirus pandemic, her team identified a treatment that could help combat complications from COVID-19 by restoring normal function to blood vessels and the heart.
I am really excited about joining the group of outstanding scientists at the Donnelly Centre and expanding the possibilities for deployment of our organ-on-chip systems in disease modelling, building on the expertise of Donnelly researchers in genomic sciences

Milica Radisic, Principal Investigator, Donnelly Centre
A passionate leader in research translation, Radisic is a founding director of the Ontario-Quebec Center for Organ-on-a-Chip Engineering, and a co-lead of the Centre for Research and Applications in Fluidic Technologies, both of which seek to accelerate the development applications of microfluidic technologies in biomedicine. She is also a co-founder of two biotechnology companies, TARA Biosystems and Quthero, which are advancing technologies developed in her lab for the treatment of heart disease and wound healing, respectively.
Radisic has received numerous accolades for her research. She holds the Canada Research Chair in Organ-on-a-Chip Engineering and is a Fellow of the Royal Society of Canada and the Canadian Academy of Engineering, two of Canada's premier academies, among other appointments. Her awards include the Stacie Prize for Natural Sciences and the Queen Elizabeth II Diamond Jubilee Medal.
Radisic obtained a B.Eng. in Chemical Engineering from McMaster University in 1999, and her Ph.D. from the Massachusetts Institute of Technology also in Chemical Engineering in 2004. In 2005, she joined the University of Toronto as an assistant professor and was promoted to the rank of full professor in 2014. Her primary appointment remains with the Institute of Biomedical Engineering.
Babaian has developed state-of-the-art computing systems and is innovating how cloud computing can be applied to massive data problems in biology, such as the discovery of new RNA viruses, such as SARS-CoV-2, influenza, and Ebola virus, which use RNA instead of DNA as their genetic material. Discovering the full biodiversity of these viruses not only prepares us for combating future pandemics. but also can give us clues to the origin of life on Earth, Babaian said.
Inspired to help fight against the COVID-19 pandemic, Babaian undertook a computational tour de the force as an independent researcher that has transformed our understanding of the viral world. He recruited a team of world's leading bioinformaticians who developed a new way to analyze all publicly available genomic data, searching for the signatures of RNA viruses. There is over $10 billion of public sequencing data that have been collected and shared by researchers from around the world — from cancer cells at the Donnelly Centre, to plants in the rain forests of South America, to penguins in Antartica, and this data can incidentally capture virus DNA or RNA infecting those organisms. The mammoth task saw them crunch 20 petabytes (20 million gigabyes) of data, that have been deposited over the last 14 years since large-scale sequencing became possible. In one 11-day analysis, Babaian and his team identified 130,000 new viruses, an almost ten-fold increase from the 15,000 species known previously. And this is only the beginning—it is estimated that we have characterized a mere one tenth of one per cent of Earth's viral diversity.
Donnelly Centre is a perfect place for my group, as we push really hard into this deep dark space of viral dark matter, we can bring back really interesting genes and learn new types of molecular biology from them.

Artem Babaian, Principal Investigator, Donnelly Centre
"My goal is to describe 100 million viruses by 2030", said Babaian. "That's what we can do with exponential data growth and the better and more sensitive tools we are building now."
"I am excited to be joining the Donnelly Centre which has positioned itself as a hub for not only computational biology but also for experimental molecular biology. It's a perfect place for my group, as we push really hard into this deep dark space of viral dark matter, we can bring back really interesting genes and learn new types of molecular biology from them," said Babaian.
As well as finding new viruses, Babaian is especially interested in uncovering new RNA-based genes known as ribozymes. These are RNA genes which directly catalyze chemical reactions, including possibly their own replication. As such ribozymes are believed to be primordial genes, the first biomolecules to arise on Earth. By finding new ribozymes and studying them in the lab, Babaian hopes to uncover clues to the origin of life itself.
Babaian obtained his H.BSc. in Molecular Genetics at McMaster University and a PhD in Medical Genetics from the University of British Columbia in 2019. He carried out his postdoctoral research in computational virology first as an independent researcher and then as a CIHR Banting Fellow at the University of Cambridge.
Follow us on LinkedIn and Twitter to keep up with Donnelly Centre news.