Donnelly Centre Research Excellence Awards Recognize Postdoctoral Research That Aims to Advance Personalized Medicine
Awards, Trainees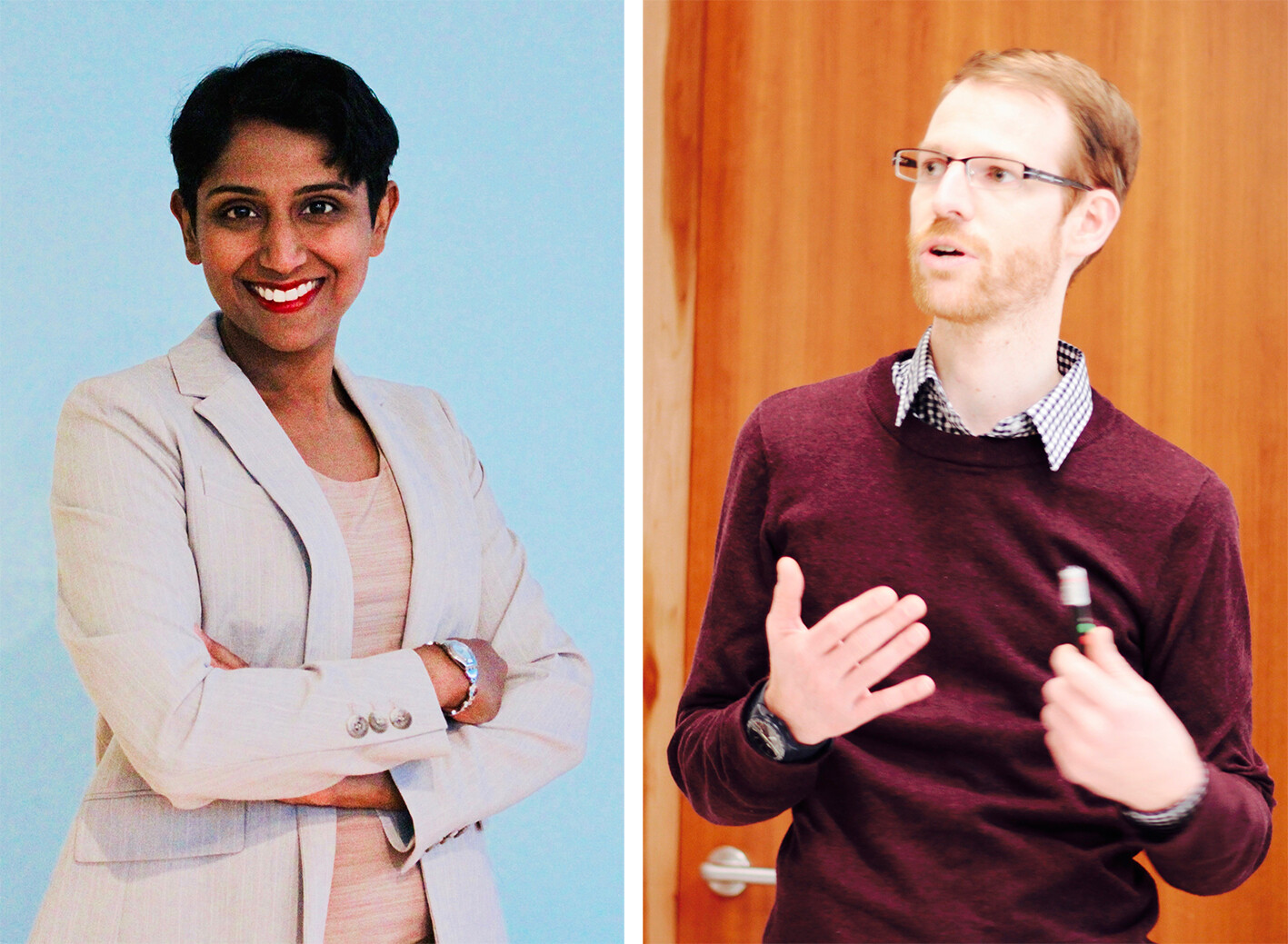 Could a patient's future health be computationally predicted? Can we target cancer more precisely to avoid harmful side effects of the treatment? These are the questions tackled by postdoctoral researchers Shraddha Pai and Michael Aregger, who are the 2019 winners of the Donnelly Centre Research Excellence Awards.
By developing and implementing advanced methods in computer science and functional genomics, Pai and Aregger's research is helping advance personalized medicine, also known as precision medicine, which seeks to tailor treatment to an individual patient.
Established last year, the annual awards recognize two postdoctoral researchers in the Donnelly Centre who have achieved excellence in interdisciplinary and collaborative research, as judged by their record of scientific publications and research presentations.
"Research is a long road filled with obstacles and negative results, and peer recognition such as this is rewarding and motivating in its own right," says Pai, a postdoctoral fellow in computational biology.
Working with Gary Bader, a professor of computer science and molecular genetics in the Donnelly Centre, Pai has developed a computational method called netDx, which integrates diverse patient information, such as clinical records, DNA sequencing and gene expression data, brain scans and others, to distinguish between patients with different outcomes. The method uses machine learning, a form of artificial intelligence, and can be adapted for most clinical problems requiring patient classification. Pai and Bader have made netDx publicly available as a user-friendly software package to encourage the biomedical research community to apply it to their questions of interest.
netDx is already helping researchers by revealing patterns in data that shed light on the underlying biology of disease. But Pai wants to see netDx helping patients.
"The long-term goal of my research is to achieve precision medicine — in other words, tailoring clinical care for a patient based on their clinical, molecular and physiological profile," says Pai.
"We hope the eventual benefit will be to patients, by avoiding clinical treatment that is not useful to improving the patient's quality of life."
In collaboration with Quaid Morris, also a professor of computer science and molecular genetics in the Donnelly Centre, Pai has improved the algorithm's processing speed so that it can handle datasets from 500 patients, the largest cohort so far. They are now working to further improve on this so netDx can take advantage of population-scale patient data to build more robust clinical predictors.
Since joining Bader's team, which is internationally recognized for advancing biological data analysis and collaborating widely the clinical research community, Pai has established new projects in fields as diverse as depression research, autism genetics, and pulmonary research. As a member of the data analysis team for a cross-national project Canadian Biomarker Integration Network in Depression (CAN-BIND1), she is also working to predict anti-depressant treatment response in diverse individuals.
"It is extremely rewarding to bring my unique expertise in statistical data analysis and machine learning to a team with interdisciplinary clinical researchers, and work on a translational project with the potential to change clinical care in the near-term," she says.
As well as predicting health outcome, precision medicine seeks to develop treatments suited to an individual's ailment. This is particularly challenging in cancer as it comes in many forms which evolve over time in different ways to resist treatment.
By identifying the genes that fuel cell proliferation in cancer, Michael Aregger's research has the potential to reveal drug targets that could be developed into more effective treatments.
Aregger joined Jason Moffat's lab in the Donnelly Centre, in 2014, attracted by the lab's expertise in interrogating gene function on a genome-wide scale and the Centre's "state-of-the art interdisciplinary research and a highly collaborative research environment". His focus is on genes involved in cellular metabolism whose extensive changes during cancer make it an attractive therapeutic target.
"The goal of my research is to understand how cells are able to rewire their metabolism in response to different environmental conditions such as nutrient availability or upon pharmacological perturbation of metabolic pathways," says Aregger.
Cancer stems from combined defects in multiple genes, but studying these genetic interactions in humans only became possible in recent years thanks to the gene editing tool CRISPR. CRISPR allows scientists to switch off genes in human cells to study how this affects cells' health.
With CRISPR, Aregger has been able to systematically investigate how genes involved in metabolism depend on other genes in the genome in human cells. These studies revealed extensive cross-talk between metabolic pathways, and also uncovered genes responsible for allowing cells to adapt to changes in metabolism. The findings could help the rational design of drug combinations and for the understanding of cancer cell resistance to metabolic stress.
Aregger has been collaborating with Brenda Andrews and Charles Boone, professors in molecular genetics in the Donnelly Centre and pioneers of the study of genetic interactions in yeast cells, and Chad Myers, a professor of computer science at the University of Minnesota Twin Cities. The genetic interaction network's potential in revealing novel gene function has also attracted collaborations across U of T, including with Anne-Claude Gingras and Jim Dennis, both at Sinai Health System's Lunenfeld-Tanenbaum Research Institute and Thomas Kislinger at Princess Margaret Cancer Centre.
In a joint project with the group of Benjamin Blencowe, a professor of molecular genetics at the Donnelly Centre, Aregger has also developed CHyMErA, an advanced CRISPR-based tool for switching off up to four genes in any combination to study their combined roles in the cell. The tool is also powerful at revealing new gene roles which are often masked by other genes in the genome that have related functions. As such, CHyMErA will be of use to a broad research community studying genetic interactions and functional annotation of the human genome.
In 2015, Aregger was a lead co-author of a landmark study that revealed which genes are essential for cell proliferation in different cancer cell lines, opening the door to developing more precise treatments that destroy only diseased cells and leaving the healthy ones unharmed.
Read more about Aregger and Moffat's cancer research in Maclean's and The Atlantic.
Aregger says he is "pleased to receive the Research Excellence Award" and hopes this "will have a positive impact on his future career". "This award helps to highlight the importance of my research as well as how it benefits the wider research community."
"On behalf of everyone on the committee, I would like to congratulate Shraddha and Michael, who were selected among a highly talented group of applicants," says Punit Saraon, a postdoctoral fellow in Igor Stagljar's lab in the Donnelly Centre and member of the award selection committee. "Both have presented multiple seminars throughout their tenure at the Donnelly Centre and have a strong publication record."
In addition to Saraon, the members of the selection committee are: Charlie Boone, Principal Investigator, Ulrich Braunschweig, Research Associate in Ben Blencowe's lab, Laura Prochazka and Nick Stepankiw, Postdoctoral Research fellows in Peter Zandstra and Tim Hughes' labs, respectively.
Follow us on Twitter to keep up with Donnelly Centre news.