Donnelly Centre faculty member and alum win Gairdner Early Career Investigators competition
Awards, Cancer, Computational Biology, Faculty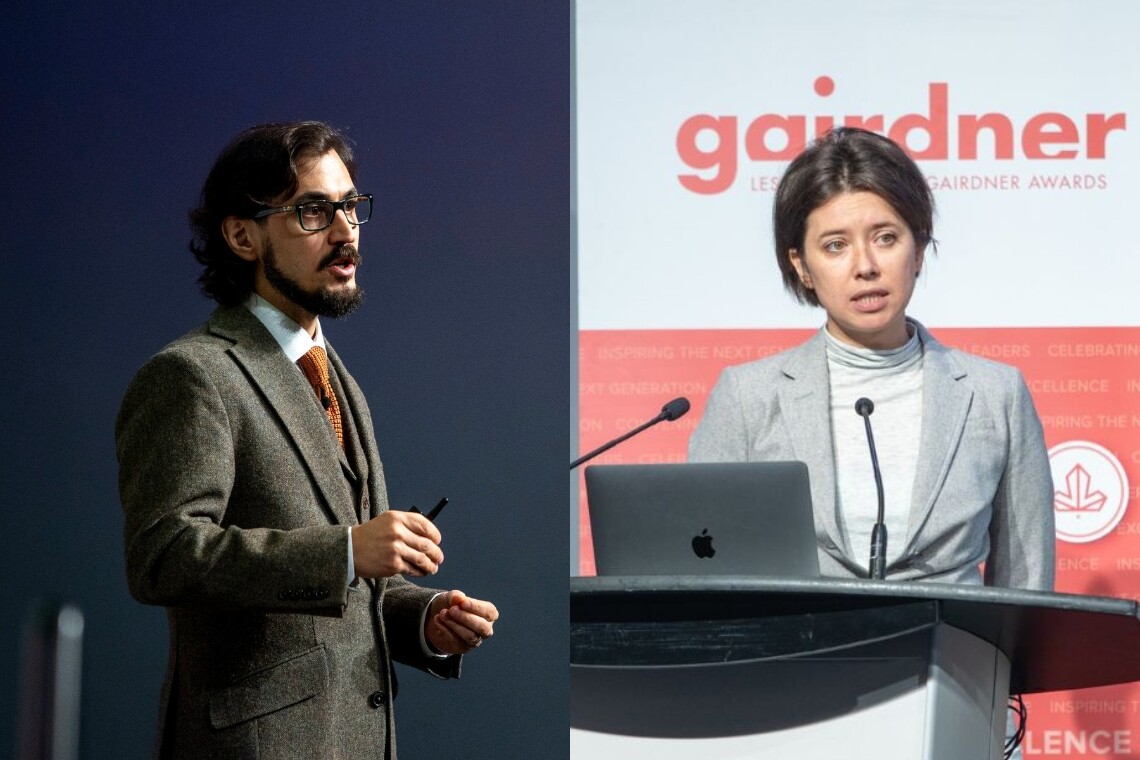 Kevin Fung for KITE Studio
The Gairdner Foundation recognizes biomedical research with an international impact through its prestigious Canada Gairdner Awards. Artem Babaian, assistant professor of molecular genetics at the Donnelly Centre for Cellular and Biomolecular Research, and Elena Kuzmin, a former PhD student in molecular genetics and at the Donnelly Centre, are both winners of the 2023 Gairdner Early Career Investigators (ECI) competition.
Competition winners are selected by the 2023 Canada Gairdner International Award winners and invited to present their research during Gairdner Science Week 2023.
"We are proud to have one of our new investigators and a former trainee be recognized by the Gairdner Foundation," said Stephane Angers, director of the Donnelly Centre. "Both Artem and Elena embody the mission of the Donnelly Centre: to advance human health. I expect they will both continue to push the boundaries of biomedical research and make a lasting impact in their fields of research."
Entering the Platinum Age of Virus Discovery
Artem Babaian was selected as a winner of the competition by Gairdner Award laureates Demis Hassabis and John Jumper, the creators of an AI-based system for predicting protein structure called AlphaFold. The AlphaFold system has resulted in a database containing nearly every protein known to science.
Babaian's research group, The Laboratory for RNA-Based Lifeforms (RNAlab), uses AlphaFold to conduct structural analyses of RNA viruses. With the help of the AI system, this typically lengthy and tedious process can be completed within just a couple of minutes.
Prior to starting his lab in the University of Toronto's Temerty Faculty of Medicine, Babaian launched the Serratus project, an open-science platform for virus identification driven by cloud-computing architecture that is designed to process petabytes of sequencing data. This project led to discovery of more than 130,000 species of RNA viruses over 11 days, compared to the 15,000 previously known RNA viruses.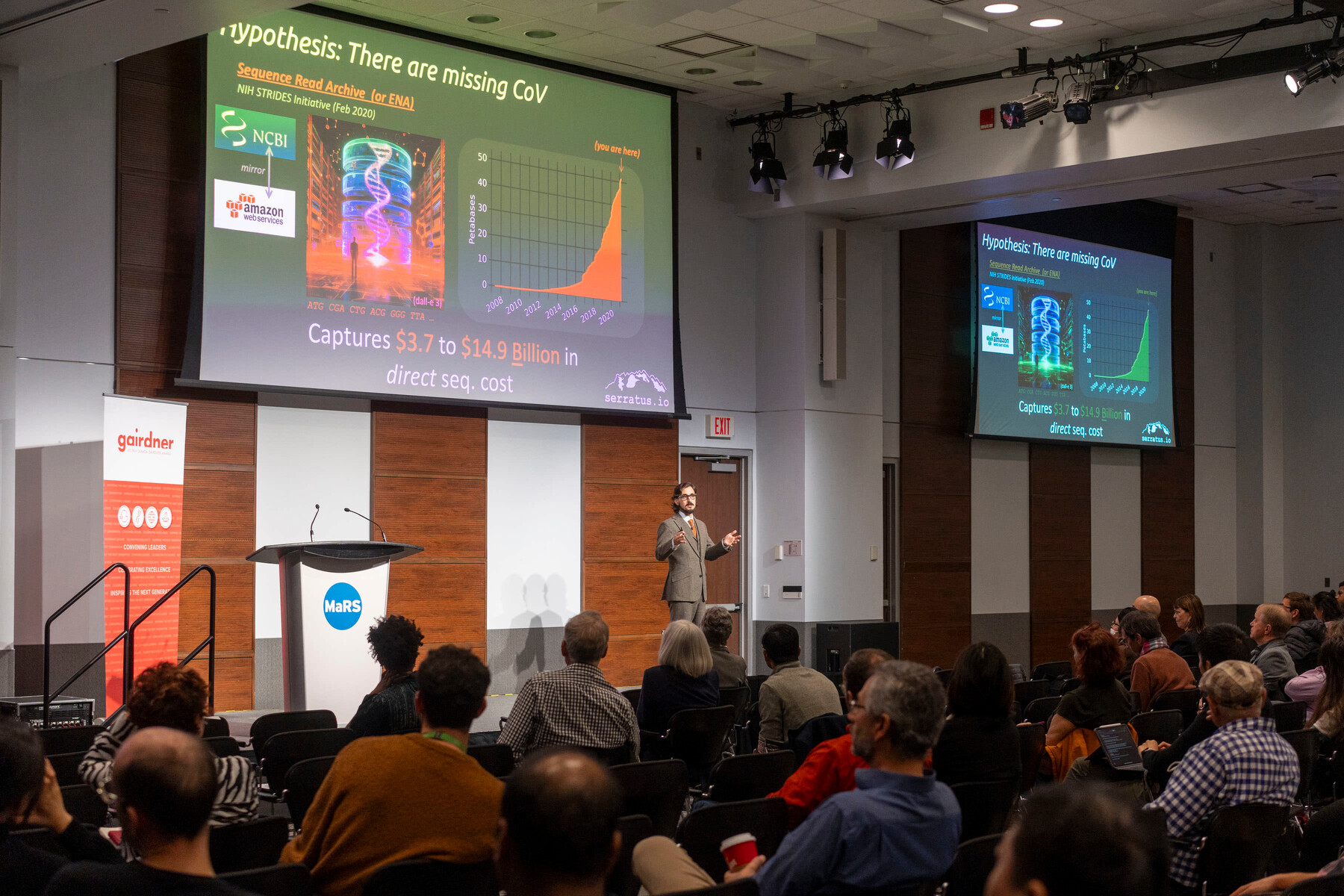 During Gairdner Science Week (October 24-26), Babaian had the chance to present his research alongside Hassabis, Jumper and other Gairdner Award winners. He spoke about the urgent need to catalogue the global diversity of viruses using AI, especially considering the impact of the SARS-CoV-2 virus and the potential for future pandemics.
"So many people have worked on AI in the past, but it wasn't the right moment for it," said Babaian. "Now technology has finally caught up to our imaginations. It's just about having the right idea at the right time."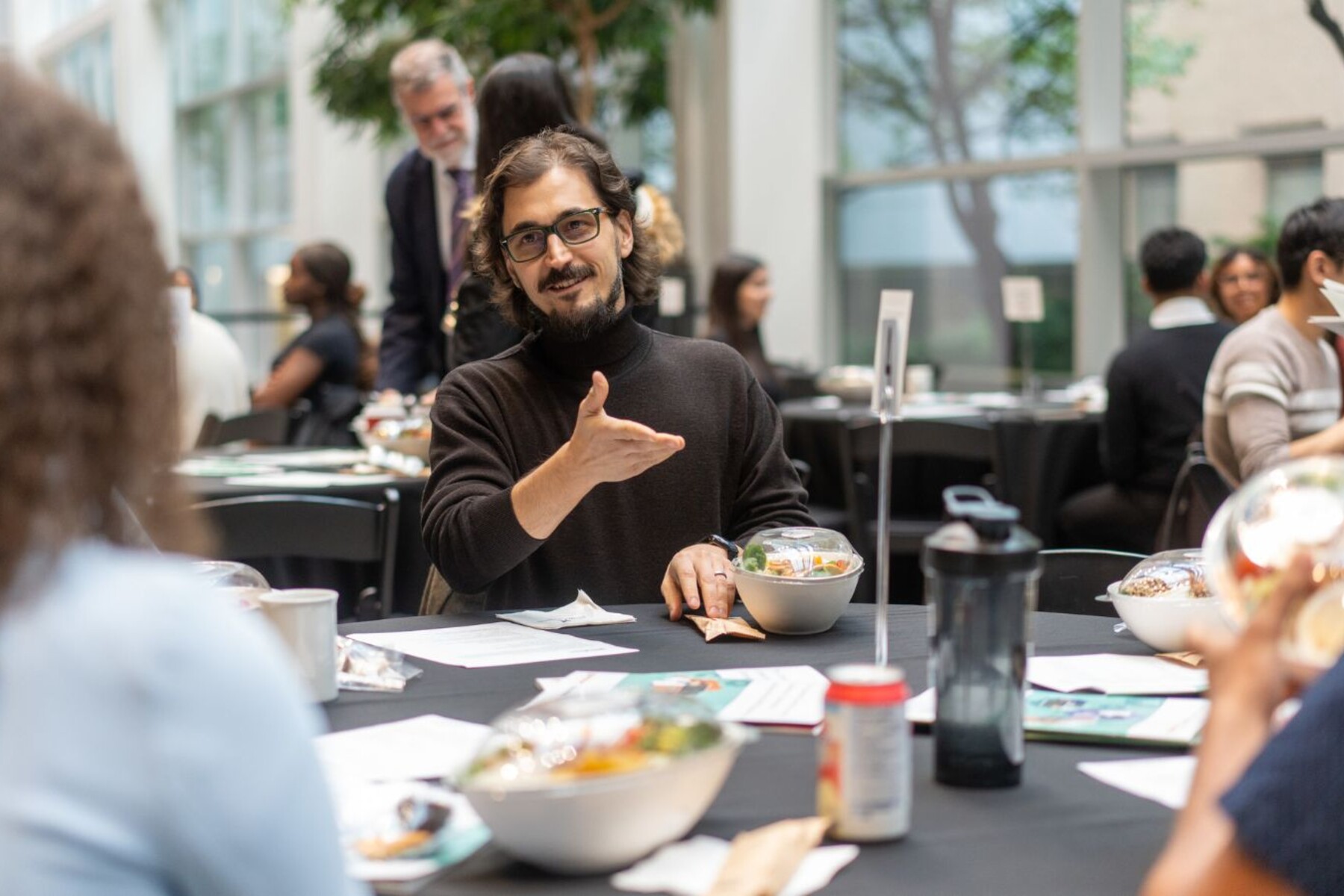 In addition to giving a talk about his research, Babaian mentored a group of high school and undergraduate students during the annual Gairdner Science Week Student Networking Lunch. He found it noteworthy that almost all of the students in his group were interested in pursuing careers in biology or AI. During the lunch, Babaian shared his stress-reducing approach to research: the process is what matters, not the outcome.
"Gairdner is about inspiring next generation," said Babaian. "Scientific research is a fairly thankless job – Gairdner Science Week and the Canada Gairdner Awards help us see the bigger picture and recognize that what we do matters."
Exploring Genetic Networks in Yeast and Human Health
Elena Kuzmin is an Assistant Professor in the Department of Biology at Concordia University, Adjunct Professor in the Department of Human Genetics at McGill University and a Canada Research Chair Tier II in Synthetic and Functional Genomics.
Kuzmin started her post-secondary journey at U of T, which eventually led to her PhD in molecular genetics. During her doctoral studies, she researched complex genetic interaction networks and their role in shaping cell fitness under the supervision of Charles Boone and Brenda Andrews.
"During my doctoral research, I was systematically identifying genetic interactions," said Kuzmin. "Specifically, the unexpected effects from combinations of mutations that you would not be able to predict from their individual effects."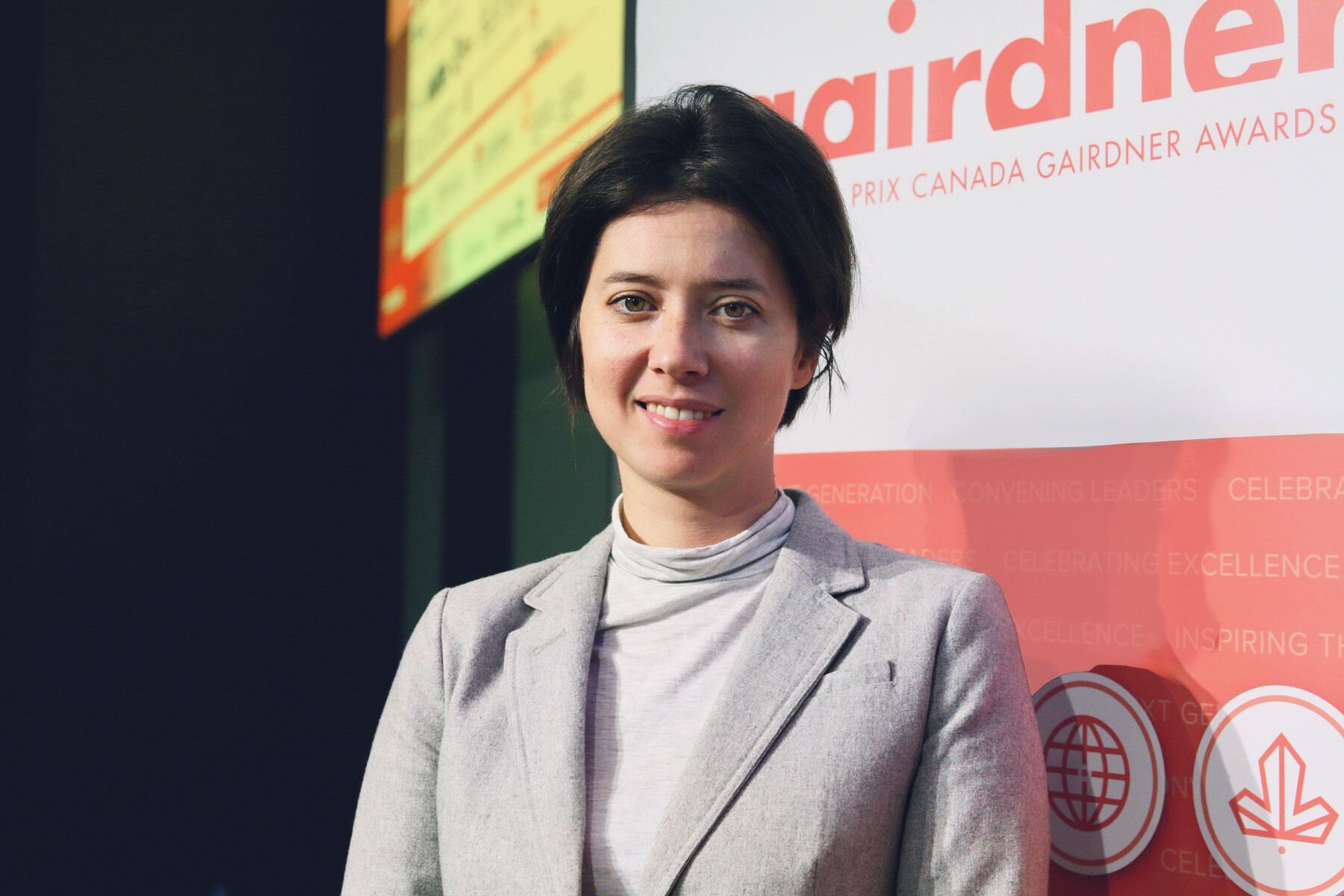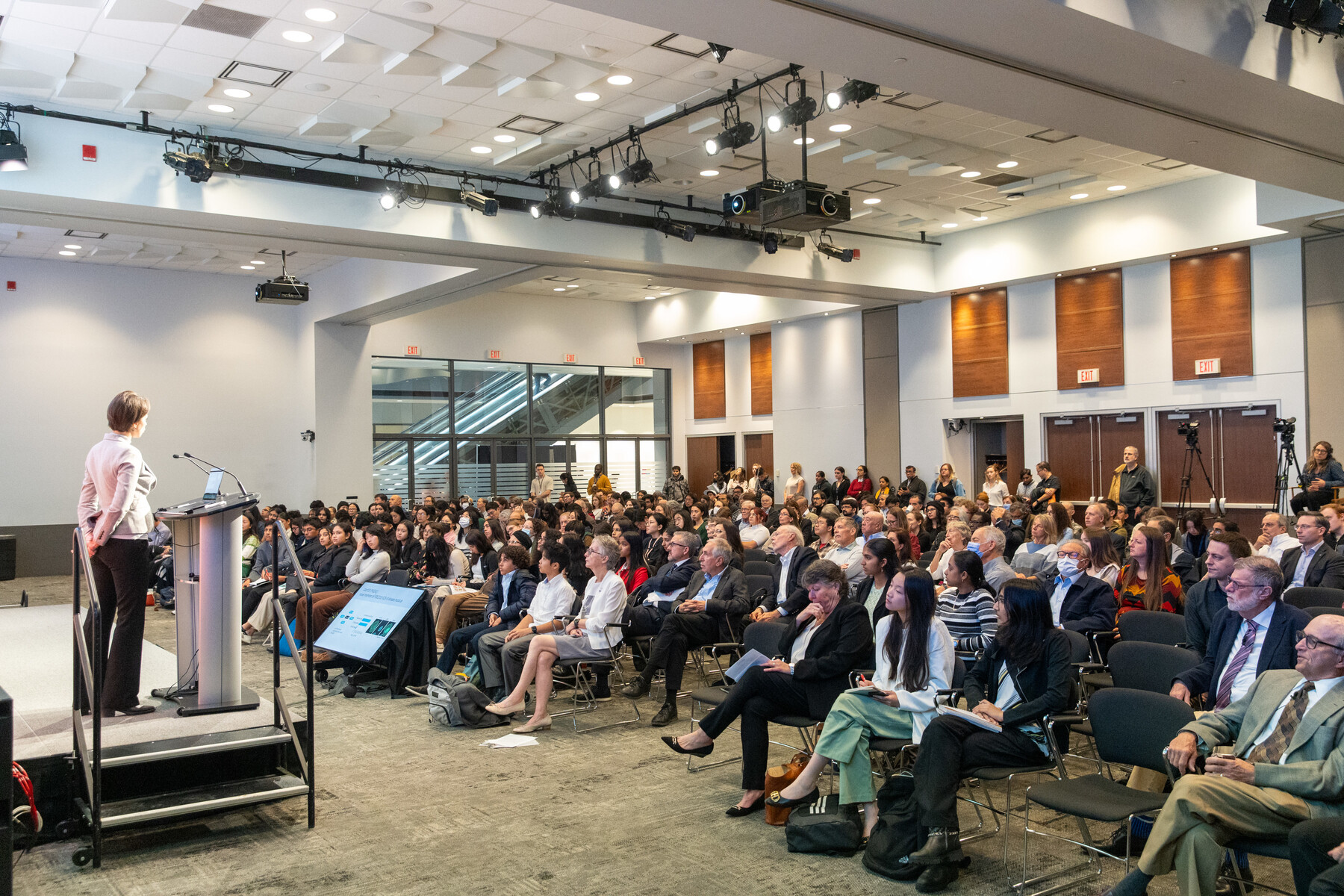 During her talk, Kuzmin highlighted the early occurrence of chromosome 4p loss, a chromosomal alteration frequently seen in TNBC patients. The early loss of chromosome 4p is linked to a cancer growth advantage and reduced activation of the immune response.
Kuzmin continues to research how genetic networks are wired and how they respond to environmental perturbations across species. Her findings are uncovering principles of genetic network conservation.
She is also exploring the effects of large chromosomal deletions on cancer. These studies involve examining the functional consequences of large chromosomal deletions and interactions of multiple genes within these regions using genome engineering and genetic screens. This work could aid in the development of synthetic lethal therapies for diseases like cancer by targeting essential genes with large chromosomal deletions.
Babaian and Kuzmin's recognition by the Gairdner Foundation showcases the contributions of early-career scientists and highlights their essential role in advancing biomedical research. Investigators like Babaian and Kuzmin are the driving force behind innovative solutions to complex health challenges, paving a path toward a healthier future.