A Decade of Breakthroughs
The Faculty of Medicine at the University of Toronto celebrated the 10th anniversary of the Donnelly Centre for Cellular and Biomolecular Research on October 15. Led by Professor Brenda Andrews, the Centre has quickly established itself as a major international hub for biomedical research.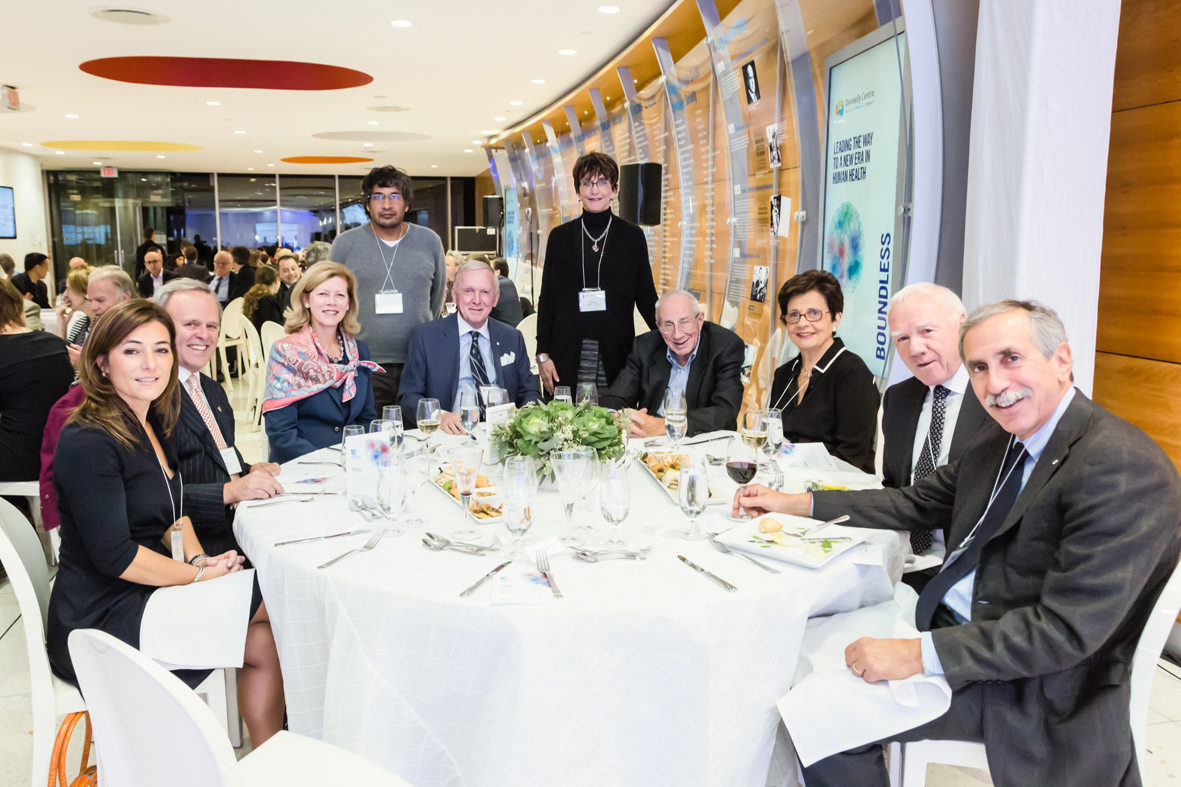 Donnelly Centre 10th Anniversary gala. From left to right: Ms. Mitze Mourinho, Dr. Lee Errett, Professors Catherine Whiteside and Sachdev Sidhu, Dr. Terrence Donnelly, Professors Brenda Andrews and James Friesen, Mrs. Jackie Nasso, Mr. Jim Nasso and Professor Alan Bernstein
"The Centre wonderfully embodies the values and aspirations that animate the University's research enterprise, including a fervent desire to extend the boundaries of knowledge and an unceasing quest to provide answers to some of the world's most important questions," said Professor Vivek Goel, Vice-President of Research and Innovation at U of T.
The Centre was made possible by the investment from the Government of Canada, private sector contributions and a visionary philanthropist Dr. Terrence Donnelly, whose gift helped complete the state-of-the-art building in the heart of Toronto.
In the past decade, Donnelly Centre researchers have made a number of breakthroughs in our understanding of genes and how they influence health and disease. These insights are already paving the way for personalized medicine, where treatment will be tailored to an individual's genetic make-up.
"The Donnelly Centre is a model for what I see as the future of medicine." Dean Trevor Young, Faculty of Medicine
The 10th anniversary celebration event included a lively discussion on the promise and pitfalls of personalized medicine by a panel of Donnelly Centre researchers that included: Professor Gary Bader, a computational scientist, Professor Molly Shoichet, a chemical engineer, Professor Sachdev Sidhu, a biochemist and Professor Andrew Fraser, a geneticist.
The panel's interdisciplinary nature reflects that of the Centre, where experts from different fields of science work side by side in an open concept space that fosters creativity and exchange of ideas.
"Essentially, the Donnelly Centre is a model for what I see as the future of medicine. We need to break out of traditional disciplines and other boundaries. We need to discover new scientific insights and then apply them," said Dean Trevor Young, U of T's Faculty of Medicine.
Such interdisciplinary approach was a revolutionary idea in the mid 1990s, when U of T professors and visionaries James Friesen and Cecil Yip first began to plan the Centre.
Professors Friesen and Yip recognized, ahead of many, that the advances in genomic technologies would enable gathering data on an unprecedented scale, calling for a paradigm shift in biomedical research. This posed a challenge of how best to analyze the vast amounts of data that could not be met by one field alone – collaboration would become necessary.
"I find it remarkable, that Jim and Cecil recognized, that in order for the University to be ahead of the game now in 2015, we really had to start thinking then how to build this type of research environment," said Professor Andrews.
Today the Donnelly Centre houses 35 principal investigators and 500 trainees and staff, who explore fundamental principles of biology, be it at the level of genes, proteins or cells. The Centre provides a unique teaching environment to students who have come from 20 different U of T departments, helping raise a new generation of scientists who think outside the confines of single research fields.
For more pictures of the event, please visit our Flickr gallery.