2022 Dorrington Awards Recognize Graduate Students Working on Cancer, Diagnostics and Drug Delivery
Awards, Trainees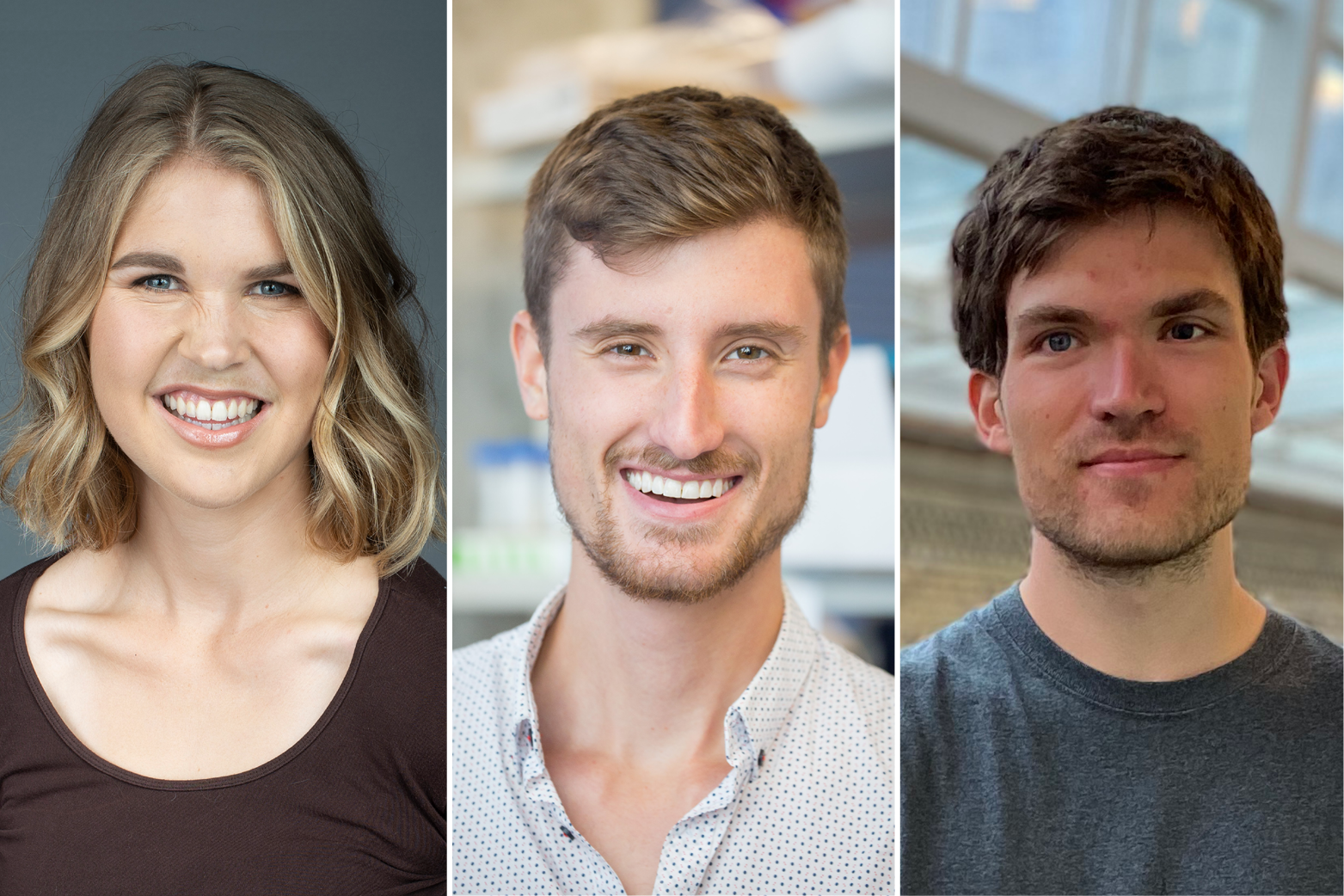 Spare a thought for the humble woodchuck and its plight with hepatitis. For the stout-bodied rodent could hold the clues to solving liver cancer. And the PhD student Zoe Clarke is on the quest to find them.
Like humans, woodchucks get infected with the hepatitis B virus, which attacks the liver, causing inflammation, or hepatitis, that can develop into cancer. This makes them a better suited animal model in which to study how liver cancer develops than the more conventional laboratory workhorses, such as mice for example, which do not naturally develop virus-induced tumours.
Working in the group of Gary Bader, a professor of molecular genetics and computer science in the Donnelly Centre, Clarke is investigating how the infected woodchuck cells turn cancerous and how they interact with other healthy liver cells during disease progression. Her research will reveal mechanistic insights into the disease that remains one of the least survivable cancers, with the potential to inspire treatments.
For her efforts, Clarke has been recognized with the Jennifer Dorrington Graduate Research Award, awarded annually to three outstanding graduate students in the Temerty Faculty of Medicine who are pursing research in the Donnelly Centre. The graduate students Matthew Osbourne and Kai Slaughter have also been awarded.
Established in 2006 by the Dorrington family, the award celebrates the memory of the late U of T Professor Jennifer Dorrington, who conducted pioneering research on ovarian cancer at the Banting and Best Department for Medical Research, which paved the way for the Donnelly Centre.
"We had an exceptionally strong pool of candidates, and I am delighted that Zoe, Matthew and Kai came through as winners. The award committee was impressed with the scope of their projects and the progress they have made in making discoveries that hold real potential for improving medicine and health," said Bader, who chairs the award committee with the Centre's investigators Fritz Roth, Cindi Morshead and Henry Krause as members. As Clarke's supervisor, Bader did not review or vote for her application to avoid conflict of interest.
"I am so grateful to the Dorrington family for their support of science, and specifically my project," said Clarke. "Receiving this kind of support really inspires me to work to the best of my ability, and reminds me how much of an impact my research can have on the community"
Liver cancer is on the rise globally, and especially in North America, with few treatment options available. The most effective treatment is liver transplant, but it is limited by a short supply of donor organs.
By comparing the molecular makeup of individual liver cells taken from healthy and diseased woodchuck livers, Clarke will gain unique insights into how cancerous cells form and how they interact with other cells around them. Of particular interest to her are the immune macrophage cells, which could one day be enlisted to fight off tumours, including those not caused by viral infection. She is collaborating with the liver immunologist Sonya MacParland, a scientist at the Toronto General Hospital Research Institute, University Health Network.
"By understanding these individual cellular differences and what part of the immune system is failing to fight cancer, hopefully we can change the behaviour of some of the macrophages in the liver to better fight of the cancer cells," said Clarke who is in her third year of the computational biology/molecular genetics PhD program at U of T's department of molecular genetics and previously won the Yip Doctoral Research Award.
Clarke, who plans to pursue a career in academia, said she is grateful to her mentor for all the training especially how to be an "ethically good scientist."
"Those are things I value so strongly, and I feel like I am learning so much and about so many aspects of life from him," she said.
Better, faster diagnostics
A mechanical engineer by training, the Dorrington awardee Matthew Osborne is no stranger to designing machines for performing specific tasks. But he met a new challenge when he joined the lab of Warren Chan, Director of U of T's Institute of Biomedical Engineering and a professor of biomedical engineering at the Centre. For his PhD, he was tasked with automating a diagnostics method developed by the lab into a portable device with a smartphone readout.
"My goal is to make diagnostic testing more informative and more accessible," said Osborne, who adapted the method for the detection of Sars-CoV-2. "Diagnostics right now is a big topic of conversation, especially with the omicron variant which has overwhelmed our testing capacity."
The method is similar to PCR and therefore highly sensitive, but it also allows point-of care use, similar to rapid tests. Osborne envisages its use one day in remote communities which have had to wait several days for the results of their PCR tests processed in specialized labs.
Chan began developing the method in the midst of the SARS outbreak, soon after joining U of T. But it was COVID-19 that kicked the project into high gear.
During the first wave, when most people hunkered at home, Osborne and other lab members were given a special permission from the university to continue their research because it was deemed critical.
"I like to work trial by fire — that's how I learn the most, and Warren allowed me to do that," he said. "But he also surrounded me with really good students who have been working with me to develop the chemical assay."
Most of Osborne's focus has been on minituarizing the workflow into a disposable fist-sized cartidge into which reagents are added and the reactions occur. The method is powered by tiny light-emitting nanocrystals known as quantum dots, allowing for multiplexing, where multiple test reactions are run simultaneously.
"You could be looking at different pathogens at the same time, say flu vs COVID-19, or within COVID-19 you could look for omicron versus delta variant, for example," said Osborne.
Having developed the method in a lab setting, Osborne is now anxiously waiting for real-world data. Earlier this month, he sent the device to his collaborators at Public Health Ontario where it will be tested on patient samples.
The award is an important recognition, Osborne said. "I had read through the list of previous winners and some of them were from my lab, and they were pretty incredible researchers. I am thrilled to be in such company."
Now in his fourth year of PhD in biomedical engineering, Osborne is leaning towards a career in industry where he would like to pursue commercialization of next generation diagnostics.
Co-delivering drugs
Dorrington awardee Kai Slaughter is trying to develop methods that would allow delivery of high doses of cancer drugs in nanoparticles. This is difficult to achieve with conventional means where large amounts of potentially toxic helper compounds are needed for the delivery of therapeutics.
The team realized that they could engineer drug-rich formulations by exploiting the natural tendency of some small molecule drugs to form aggregates. This results in a nanoparticle that is comprised almost entirely of the active drug, therefore reducing the need for helper compounds. This approach holds potential for enhanced cancer therapies.
"This type of drug aggregation was actually discovered as a cause of false hits in drug screening assays, but we're taking advantage of this phenomenon for more efficacious drug delivery" said Slaughter, who is in his third year of PhD in biomedical engineering in University Professor Molly Shoichet's lab, which specializes in engineering solutions for drug delivery.
But while the team has been successful in engineering formulations that are taken up by the cells, there've encountered a problem. The aggregates enter the cell by a process where the cell membrane folds in on itself and pinches off to form a vesicle, which eventually delivers its cargo into an organelle known as the endosome. Once in the endosome, however, the aggregates become trapped, and the challenge now is finding a way to release them into the cells' interior where they can exert their therapeutic effects.
Over time, the endosome becomes naturally more acidic, and Slaughter is now designing co-formulations that take advantage of this change in the environment to get the drugs released. The effort calls for pulling expertise form diverse fields, which the Shoichet lab is known for.
"It's great to be part of an interdisciplinary team," said Slaughter, who previously won the Yip Doctoral Award which supports early graduate research that is multidisciplinary. "Professor Shoichet is always supportive and we're able to connect with collaborators in different places and have all the expertise and resources we need."
Planning to pursue a career in academia, Slaughter said that the award is a great motivational boost to continue with his project and that he is thankful to the Dorrington family for supporting his research.
Follow us on LinkedIn and Twitter to keep up with Donnelly Centre news.